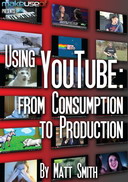 Download the latest free eBook from MakeUseOf, "Using YouTube, from Consumption to Production", in pdf and ePub formats. This manual goes over everything you need to know about YouTube and help you get the most out of it.
Book Description
This guide will teach you: The history of YouTube, and how active it is; How to find videos relevant to your interests; Watching YouTube videos beyond the browser, from phones to you TV; How to upload videos to YouTube
Editing videos online with YouTube's web-based editor; Adding ads to videos, and understanding the stats that can make your videos profitable; Building a channel with ideal layout and image.
Table of Contents
Introduction
A Brief History of YouTube
The YouTube Interface
Registering Your Account
Finding New Videos
Chrome YouTube Extensions
Firefox YouTube Extensions
Other Ways To Watch
YouTube On Mobile
YouTube For Your HTPC
Uploading and Editing
Editing Videos In YouTube
Ads And Analytics
Applying Advertisements
Understanding Analytics
Building A Channel
Download Free PDF / Read Online
Author(s): Matt Smith
Format(s): PDF, ePub
File size: 6.74 MB
Number of pages: 24
Link:
Download.