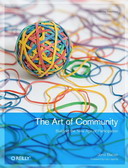 Free eBook "The Art of Community: Building the New Age of Participation" By Jono Bacon from O'Reilly.
Book Description
In The Art of Community you'll experience the broad range of talents required to recruit members, motivate them, manage them, and make them happy to be part of your community. Bacon takes you through the different stages of community and covers the information you'll need, ranging from software tools to conflict resolution skills. Topics include: Sustainable processes for management, Tools and infrastructure, Building buzz, Measuring aspects of community success, Conflict management, Handling live events and Scaling the community.

This book has been written to be open and applicable to a wide range of communities. While O'Reilly is traditionally a computer book publisher, The Art of Community is not specifically focused on computing communities, and the vast majority of its content is useful for anything from political groups to digital rights to knitting and beyond.
Table of Contents
The Art of Community
Planning Your Community
Communicating Clearly
Processes: Simple Is Sustainable
Supporting Workflow with Tools
Building Buzz
Measuring Community
Governance
Handling Conflict
Creating and Running Events
Hiring a Community Manager
Download Free PDF / Read Online
Author(s): Jono Bacon
Format(s): PDF
File size: 2.17 MB
Number of pages: 394
Link:
Download.