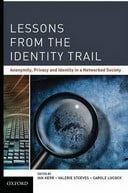 Download each chapter in pdf format from free eBook "Lessons from the Identity Trail: Anonymity, Privacy and Identity in a Networked Society".
Book Description
During the past decade, rapid developments in information and communications technology have transformed key social, commercial, and political realities. Within that same time period, working at something less than Internet speed, much of the academic and policy debate arising from these new and emerging technologies has been fragmented. There have been few examples of interdisciplinary dialogue about the importance and impact of anonymity and privacy in a networked society.
Table of Contents
Soft Surveillance, Hard Consent: The Law and Psychology of Engineering Consent
Approaches to Consent in Canadian Data Protection Law
Learning from Data Protection Law at the Nexus of Copyright and Privacy
A Heuristics Approach to Understanding Privacy-Protecting Behaviors in Digital Social Environments
Ubiquitous Computing and Spatial Privacy
Core Privacy: A Problem for Predictive Data Mining
Privacy Versus National Security: Clarifying the Trade-Off
Privacy's Second Home: Building a New Home for Privacy Under Section 15 of the Charter
What Have You Done for Me Lately? Reflections on Redeeming Privacy for Battered Women
Genetic Technologies and Medicine: Privacy, Identity, and Informed Consent
Reclaiming the Social Value of Privacy
A Conceptual Analysis of Identity
Identity: Difference and Categorization
Identity Cards and Identity Romanticism
What's in a Name? Who Benefits from the Publication Ban in Sexual Assault Trials?
Life in the Fish Bowl: Feminist Interrogations of Webcamming
Ubiquitous Computing, Spatiality, and the Construction of Identity: Directions for Policy Response
Dignity and Selective Self-Presentation
The Internet of People? Reflections on the Future Regulation of Human-Implantable Radio Frequency Identification
Using Biometrics to Revisualize the Canada–U.S. Border
Soul Train: The New Surveillance in Popular Music
Exit Node Repudiation for Anonymity Networks
TrackMeNot: Resisting Surveillance in Web Search
Anonymity and the Law in the United States
Anonymity and the Law in Canada
Anonymity and the Law in the United Kingdom
Anonymity and the Law in the Netherlands
Anonymity and the Law in Italy
Download Free PDF / Read Online
Author(s): Ian Kerr, Valerie Steeves and Carole Lucock.
Format(s): PDF
Number of pages: 504
Link:
Download.