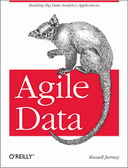 "Agile Data", by Russell Jurney, is still under development. You can read the completed chapters online for free from O'Reilly Media's Open Feedback Publishing System.
Book Description
Agile Data is a development methodology that copes with the unpredictable realities of creating applications from data. This book attempts to make a synthesis of two fields, agile development and data science — to meld research and engineering into a productive relationship. To achieve this, we present a lightweight toolset that can cope with the uncertain, shifting sea of derived statistics. We go on to show how to build value using this stack, to get back to agility and iteratively mine data for value to turn data to dollars.

Agile Data puts you back in the driver's seat, ensuring your applied research produces useful products meeting the needs of real users.
Table of Contents
Theory
Data
Agile Tools
To the Cloud!
Cloud Patterns
The Data Value Stack
Collecting and Displaying Records
Visualizing Data with Charts
Exploring Data with Reports
Making Predictions
Driving Actions
A/B Testing
Download Free PDF / Read Online
Author(s): Russell Jurney
Publisher: O'Reilly Media
Format(s): HTML
Link:
Read online.