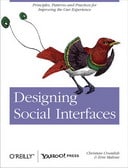 Read the patterns included in the book; "Designing Social Interfaces: Principles, Patterns, and Practices for Improving the User Experience", published by O'Reilly Media, for free online. The patterns in this collection are social design patterns (a.k.a. social user experience design patterns). They are interaction pattern for people designing social interfaces.
Book Description
A pattern describes an optimal solution to a common problem within a specific context.

A pattern is not a finished piece of code or design. Rather, it reflects the sum total of a community's knowledge and experience or expertise in a given domain.

When we talk about patterns, we often start by noticing social behavior patterns. These are patterns in what people do, with or without interfaces designed for those purposes. These patterns are interesting and fun to talk about and they help us understand what's likely to happen, but they are not the primary focus of this project.
Table of Contents
Fundamental Principles
Engagement
Identity
Presence
Reputation
Collecting
Broadcasting & Publishing
Sharing
Feedback
Communicating
Collaboration
Social Media
5+ Anti-Patterns
Personal Connections
Community Management
Place, Geography, Location
Download Free PDF / Read Online
Author(s): Various authors.
Publisher: O'Reilly Media / Yahoo Press
Format(s): HTML
Link:
Read online.