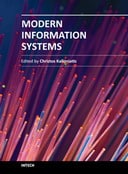 Full contents of "Modern Information Systems" from InTech is available online or you can download it in pdf format. The realization of modern information systems with great characteristics and functionalities implemented for specific areas of interest is a fact of our modern and demanding digital society and this is the main scope of this book.
Book Description
Therefore, this book aims to present a number of innovative and recently developed information systems. It is titled "Modern Information Systems" and includes 8 chapters. This book may assist researchers on studying the innovative functions of modern systems in various areas like health, telematics, knowledge management, etc. It can also assist young students in capturing the new research tendencies of the information systems development.
Table of Contents
Use of Descriptive Statistical Indicators for Aggregating Environmental Data in Multi-Scale European Databases
Ontology Approach in Lens Design
Quality Management of the Passenger Terminal Services on the Base of Information System
Document Image Processing for Hospital Information Systems
Open Source Software Development on Medical Domain
Communication Architecture in the Chosen Telematics Transport Systems
Critical Role of 'T-Shaped Skills & Incentive Rewards' as Determinants for Knowledge Management Enablers: A Case of Indian Study
Building Information Systems – Extended Building-Related Information Systems Based on Geospatial Standards
Download Free PDF / Read Online
Author(s): Christos Kalloniatis(Editor)
Publisher: InTech
Format(s): PDF, HTML
File size: 11.18 MB
Number of pages: 166
Link:
Download or read online.