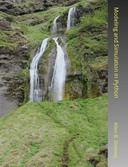 Modeling and Simulation in Python is an introduction to modeling and simulation of physical systems using the Python programming language.
It is organized in three parts: The first part presents discrete models, including a bikeshare system and world population growth. The second part introduces first-order systems, including models of infectious disease, thermal systems, and chemical kinetics. The third part is about second-order systems, including mechanical systems like projectiles, celestial mechanics, and rotating rigid bodies.
Book Description
Topics included: Modeling • Simulation • Explanation • Prediction • Design • Analysis • Thermal systems • Pharmacokinetics • Two dimensions • Rotation.
Download Free PDF / Read Online
Author(s): Allen B. Downey
Publisher: Green Tea Press
Published: September 2017
Format(s): PDF
File size: 1.28 MB
Number of pages: 204
Download / View Link(s): PDF