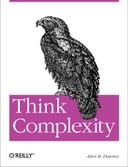 This free book Computational Modeling and Complexity Science by Allen B. Downey is about data structures and algorithms, intermediate programming in Python, complexity science and the philosophy of science: Data structures and algorithms, Python programming, Computational modeling, Philosophy of science.
Book Description
This book focuses on discrete models, which include graphs, cellular automata, and agent-based models. They are often characterized by structure, rules and transitions rather than by equations. They tend to be more abstract than continuous models; in some cases there is no direct correspondence between the model and a physical system.
Table of Contents
Graphs
Analysis of algorithms
Small world graphs
Scale-free networks
Cellular Automata
Game of Life
Fractals
Self-organized criticality
Agent-based models
Download Free PDF / Read Online
Author(s): Allen B. Downey
Publisher: O'Reilly Media
Format(s): PDF
File size: 1.21 MB
Number of pages: 141
Link:
Download or read online.