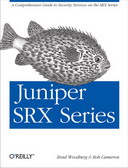 "Juniper SRX Series: A Comprehensive Guide to Security Services on the SRX Series" by Brad Woodberg and Rob Cameron. Read the free online version of this book from O'Reilly Media.
Book Description
This complete field guide, authorized by Juniper Networks, is the perfect hands-on reference for deploying, configuring, and operating Juniper's SRX Series networking device. Authors Brad Woodberg and Rob Cameron provide field-tested best practices for getting the most out of SRX deployments, based on their extensive field experience.
Table of Contents
Welcome to the SRX
SRX Series Product Lines
SRX GUI Management
SRX Networking Basics
System Services
Transparent Mode
High Availability
Security Policies
Network Address Translation
IPsec VPN
Screens and Flow Options
AppSecure Basics
Intrusion Prevention
Unified Threat Management
Book Download / View Details
Author(s): Brad Woodberg and Rob Cameron
Publisher: O'Reilly Media
Published: June 2013
Format(s): HTML (Online)
Number of pages: 1020
Download / View Link(s): Read online.