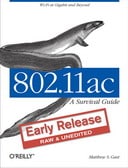 "802.11ac: A Survival Guide – Wi-Fi at Gigabit and Beyond" by Matthew Gast. This free version of the early release contains four out of five chapters.
Book Description
802.11ac is the next jump in speed for Wi-Fi, offering an increase in speed to beyond 1 Gbps. This book describes the technology behind the latest generation of Wi-Fi, including new coding and channel layouts for higher raw speed, as well as technology that underlies beamforming and multi-user MIMO for even greater efficiency.
Table of Contents
Introduction to 802.11ac
The PHY
The MAC
Beamforming in 802.11ac
802.11ac Planning
Book Download / View Details
Author(s): Matthew Gast
Publisher: O'Reilly Media
Published: December 2012
Format(s): HTML (Online)
Number of pages: 100
Download / View Link(s): Read online.