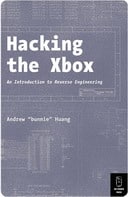 No Starch Press and Andrew 'bunnie' Huang have decided to release this free ebook version of Hacking the Xbox in honor of Aaron Swartz. Download "Hacking the Xbox: An Introduction to Reverse Engineering" in pdf format.
Book Description
This hands-on guide to hacking begins with step-by-step tutorials on hardware modifications that teach basic hacking techniques as well as essential reverse engineering skills. The book progresses into a discussion of the Xbox security mechanisms and other advanced hacking topics, with an emphasis on educating the readers on the important subjects of computer security and reverse engineering. Hacking the Xbox includes numerous practical guides, such as where to get hacking gear, soldering techniques, debugging tips and an Xbox hardware reference guide.
Table of Contents
Voiding the Warranty
Thinking Inside the Box
Installing a Blue LED
Building a USB Adapter
Replacing a Broken Power Supply
The Best Xbox Game: Security Hacking
A Brief Primer on Security
Reverse Engineering Xbox Security
Sneaking in the Back Door
More Hardware Projects
Developing Software for the Xbox
Caveat Hacker
Onward!
Download Free PDF / Read Online
Author(s): Andrew 'bunnie' Huang
Publisher: No Starch Press
Format(s): PDF
File size: 17.76 MB
Number of pages: 291
Link:
Download.