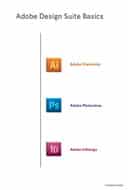 This free eBook "Adobe Design Suite Basics" leads the beginning student through the basics of Illustrator, Photoshop, and InDesign.
Book Description
This book is made for students who would like to learn the basics of the three primary Adobe design applications.
The way the book does this is by introducing and explaining the applications in a logical way that builds upon what is previously learned. These applications present a bewildering array of buttons and gadgets that are overwhelming to the new user. This book makes sense of it all, not showing how everything works, but instead giving a foundation and a path to learn about all those bewildering buttons and gadgets.
Table of Contents
The Applications
Illustrator Basics
Illustrator Paths
Illustrator Type
Photoshop Basics
Photoshop Layers
Images to Illustrator
InDesign
The Right Tool
More Illustrator
More Photoshop
More InDesign

Download Free PDF / Read Online
Author(s): Thomas Payne
Publisher: Adobe Systems Incorporated.
Format(s): PDF
File size: 4.71 MB
Number of pages: 194
Link:
Download.