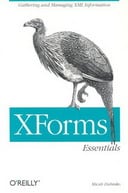 This book can be freely downloaded. XForms Essentials begins with a general introduction to web forms, including information on history and basic construction of forms. The second part of the book serves as a reference manual to the XForms specification.
Book Description
XForms Essentials is an introduction and practical guide to the new XForms specification. Written by Micah Dubinko, a member of the W3C XForms working group and an editor of the specification, the book explains the how and why of XForms, showing readers how to take advantage of them without having to write their own code. You'll learn how to integrate XForms with both HTML and XML vocabularies, and how XForms can simplify the connection between client-based user input and server-based processing.
Table of Contents
Introduction to Web Forms
XForms Building Blocks
XPath in XForms
XML Schema in XForms
The XForms Model
The XForms User Interface
Actions and Events
Submit
Styling XForms
Form Accessibility, Design, and Troubleshooting
Extending XForms
Download Free PDF / Read Online
Author(s): Micah Dubinko
Publisher: O'Reilly Media
Format(s): HTML, Docbook
Number of pages: 240
Link:
Download or read online.