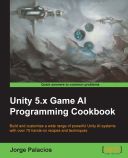 Elevate your game AI programming skills with the Unity 5.x Game AI Programming Cookbook. This comprehensive guide serves as a go-to resource, offering a wide array of both fundamental and specialized techniques. Whether you're new to game development or an experienced pro, you'll delve into critical aspects of agent interaction, game environment navigation, and the enhancement of decision-making and coordination for your virtual agents.
The cookbook presents these concepts through practical, customizable examples, making it your ultimate reference for advancing your game AI programming prowess. Prepare to create more sophisticated and engaging gaming experiences using Unity 5.x. (Limited-time offer)
Table of Contents
Behaviors – Intelligent Movement
Navigation
Decision Making
Coordination and Tactics
Agent Awareness
Board Games AI
Learning Techniques
Miscellaneous
Download Free PDF / Read Online
Author(s): Jorge Palacios
Publisher: Packt Publishing
Published: March 2016
Format(s): Online
File size: –
Number of pages: 278
Download / View Link(s): This offer has ended.
Free as of 09/07/2023.