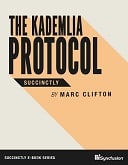 With its novel XOR-based metric topology, Kademlia is the first peer-to-peer system to combine provable consistency and performance, latency-minimizing routing, and a symmetric, unidirectional topology. In The Kademlia Protocol Succinctly, author Marc Clifton leads readers through the positive aspects of Kademlia's decentralized specifications.
Book Description
Topics included: Introduction • Key Concepts • Getting Started • Adding Contacts • Node Lookup • Value Lookup • The DHT Class • The Dht-Bootstrapping • Bucket Management • Key-Value Management • Persisting the DHT • Considerations for an Asynchronous Implementation • A Basic TCP Subnet Protocol • RPC Error Handling and Delayed Eviction • Putting It Together: A Demo • Things Not Implemented.
Download Free PDF / Read Online
Author(s): Marc Clifton
Publisher: Syncfusion Inc.
Published: February, 2018
Format(s): PDF, Mobi(Kindle), ePub
File size: 2.63 MB
Number of pages: 194
Download / View Link(s): Download