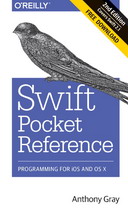 Get quick answers for developing and debugging applications with Swift, Apple's multi-paradigm programming language. Updated to cover the latest features in Swift 2.0, Swift Pocket Reference: Programming for iOS and OS X is the perfect on-the-job tool for learning Swift's modern language features, including type safety, generics, type inference, closures, tuples, automatic memory management, and support for Unicode.
Book Description
Topics included: Getting Started with Swift 2 • A Taste of Swift • Basic Language Features • Types • Variables and Constants • Tuples • Operators • Strings and Characters • Arrays • Dictionaries • Sets • Functions • Closures • Optionals • Program Flow • Classes • Structures • Enumerations • Access Control • Extensions • Checking and Casting Types • Protocols • Memory Management • Generics • Operator Overloading • Ranges, Intervals, and Strides • Global Functions • Changes From Swift 1.0.
Download Free PDF / Read Online
Author(s): Anthony Gray
Publisher: O'Reilly Media, Inc.
Published: November 2015 (Revised on 2016-03-04)
Format(s): PDF, ePub, Mobi
File size: 3.00 MB
Number of pages: 236
Download / View Link(s): PDF | ePub | Mobi