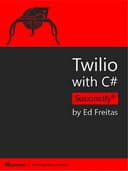 A functional introduction to Twilio for experienced C# developers. Ed Freitas will guide readers towards developing voice and messaging apps in C# using Twilio. With just some experience with C#, Twilio with C# Succinctly will open new avenues for effective application development.
Book Description
Topics included: Working with SMS • Automation using SMS • Receive and Make Calls • Automation Using Voice.
Download Free PDF / Read Online
Author(s): Ed Freitas
Publisher: Syncfusion Inc.
Published: April 2017
Format(s): PDF, Mobi
File size: 3.25 MB(pdf)
Number of pages: 107
Download / View Link(s): PDF, Mobi