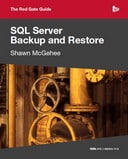 With this free eBook "SQL Server Backup and Restore" by Shawn McGehee, you'll discover how to perform backup and restore operations using SQL Server Management Studio (SSMS), basic T-SQL scripts and Red Gate's SQL Backup tool.
Book Description
Discover how to set-up a reliable, tested, SQL Server backup and restore plan. Get tips for recovering your data with minimum downtime. Learn how to minimize data loss when disaster strikes. The tool of choice in this book for backup automation is Red Gate SQL Backup. Building your own automated solution will take a lot of work, but we do offer some advice on possible options, such as PowerShell scripting, T-SQL scripts and SQL Server Agent jobs.
Table of Contents
Basics of Backup and Restore
Planning, Storage and Documentation
Full Database Backups
Restoring From Full Backup
Log Backups
Log Restores
Differential Backup and Restore
Database Backup and Restore with SQL Backup Pro
File and Filegroup Backup and Restore
Partial Backup and Restore
QL Backup Pro Installation and Configuration
Download Free PDF / Read Online
Author(s): Shawn McGehee
Publisher: Simple Talk Publishing
Format(s): PDF
File size: 4.78 MB
Number of pages: 391
Link:
Download.