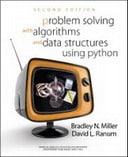 "Problem Solving with Algorithms and Data Structures Using Python", by Brad Miller and David Ranum, is an interactive book which you can access online.
Book Description
Computer science is the study of problems, problem-solving, and the solutions that come out of the problem-solving process. Given a problem, a computer scientist's goal is to develop an algorithm, a step-by-step list of instructions for solving any instance of the problem that might arise. Algorithms are finite processes that if followed will solve the problem. Algorithms are solutions.
Table of Contents
Introduction
Analysis
Basic Data Structures
Recursion
Sorting and Searching
Trees and Tree Agorithms
Graphs and Graph Algorithms
Download Free PDF / Read Online
Author(s): Brad Miller and David Ranum.
Publisher: Franklin Beedle & Assoc.
Format(s): HTML(Online)
Number of pages: 425
Link:
Read online.