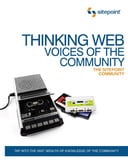 "Thinking Web: Voices of the Community" is a collaborative book by the SitePoint Community. In this book, 11 members from SitePoint Forums share their knowledge on topics related to web design and development. It's available for free in pdf format.
Book Description
In every SitePoint book's preface, we have a section called "The SitePoint Forums." It describes the forums as a place where you can ask questions on anything related to web design, development, hosting, and online marketing. It goes on to describe how the forums work: "some people ask, some people answer, and most people do a bit of both." I love that line. But what resonates the most for me is the part that says "sharing your knowledge benefits others and strengthens the community." Obviously, I have a greater investment in the strength of our community than most, but what I like about this description is that it makes it about everyone; combined strength. And that's what this book is all about.
Table of Contents
Anatomy of a Website
Designing in the Dark
Everything Must Go!
Going Freelance
Successful PSD to HTML Freelancing
Write Email Markup That Doesn't Explode in the Inbox
Make Your Website Stand Out from the Crowd
Information Organization and the Web
Using Vector Graphics to Build a Noughts & Crosses Game
Efficient ActionScript
Databases: The Basic Concepts
The Iceberg of TCP/IP
Download Free PDF / Read Online
Author(s): John Borda, Ursula Comeau, Sherry Curry, Alex Dawson, Coyote Holmberg, Ralph Mason, Paul O'Brien, Christian Snodgrass, Robert Wellock, Clive Wickham and Nuria Zuazo.
Publisher: SitePoint Pty. Ltd.
Format(s): PDF
File size: 3.19 MB
Number of pages: 228
Link:
Download.