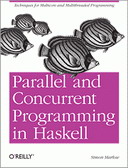 "Parallel and Concurrent Programming in Haskell" is available online on O'Reilly Media's Open Feedback Publishing System.
Book Description
The main goal of the book is to get you programming competently with Parallel and Concurrent Haskell. However, as you probably know by now, learning about programming is not something you can do by reading a book alone. This is why the book is deliberately practical: there are lots of examples that you can run, play about with, and extend. Some of the chapters have suggestions for exercises that you can try out to get familiar with the topics covered in that chapter, and I strongly recommend that you either try a few of these, or code up some of your own ideas.
Table of Contents
Introduction
Basic parallelism: the Eval monad
Evaluation Strategies
Basic concurrency: threads and MVars
Overlapping input/output
Cancellation and timeouts
Software Transactional Memory
Higher-level concurrency abstractions
High-speed concurrent server applications
Parallel programming using threads
Download Free PDF / Read Online
Author(s): Simon Marlow
Publisher: O'Reilly Media
Format(s): HTML(Online)
Link:
Read online.