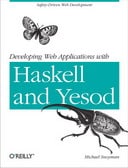 "Developing Web Applications with Haskell and Yesod", written by Michael Snoyman and published by O'Reilly Media, is available online. Read it on authors' website. This book introduces web application development with Haskell and Yesod.
Book Description
By the time you finish this book, you'll create a production-quality web application with Yesod's ready-to-use scaffolding. You'll also examine several real-world examples, including a blog, a wiki, a JSON web service, and a Sphinx search server.

You'll work with several samples to explore the way Yesod handles widgets, forms, persistence, and RESTful content. You also get an introduction to various Haskell tools to supplement your basic knowledge of the language.
Table of Contents
Introduction
Haskell
Basics
Shakespearean Templates
Widgets
Yesod Typeclass
Routing and Handlers
Forms
Sessions
Persistent
Deploying your Webapp
RESTful Content
Yesod's Monads
Authentication and Authorization
Scaffolding and the Site Template
Internationalization
Creating a Subsite
Blog: i18n, authentication, authorization, and database
Wiki: markdown, chat subsite, event source
JSON Web Service
Case Study: Sphinx-based Search
Download Free PDF / Read Online
Author(s): Michael Snoyman
Publisher: O'Reilly Media
Format(s): HTML
Number of pages: 298
Link:
Read online.