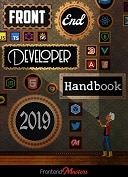 Front-end Developer Handbook is a guide that everyone can use to learn about the practice of front-end development. It broadly outlines and discusses the practice of front-end engineering: how to learn it and what tools are used when practicing it.
Table of Contents
What Is a Front-end Developer?
The Practice of Front-end Development: Overview
Learning Front-end Dev: Self Directed Resources/Recommendations
Learning Front-end Dev: Instructor Directed Resources/Recommendations
Front-end Dev Tools
Front-end Communities, Newsletters, News Sites, & Podcasts
Download Free PDF / Read Online
Author(s): Cody Lindley
Publisher: Frontend Masters
Published: April 2019
Format(s): Online(HTML), PDF, ePub
File size: 6.14 MB (PDF)
Number of pages: 145
Download / View Link(s): Download or read online.