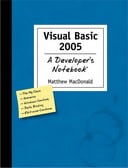 Free Visual Basic book from O'Reilly Commons. To bring you up to speed with Visual Basic 2005, this practical book offers nearly 50 hands-on projects.

Book Description
Each one explores a new feature of the language, with emphasis on changes that can increase productivity, simplify programming tasks, and help you add new functionality to your applications. You get the goods straight from the masters in an informal, code-intensive style. Part of our new Developer's Notebook series.
Table of Contents
Visual Studio
The Visual Basic Language
Windows Applications
Web Applications
Files, Databases, and XML
.NET 2.0 Platform Services
Download Free PDF / Read Online
Author(s): Matthew MacDonald
Format(s): HTML
Number of pages: 264
Link:
Read online.