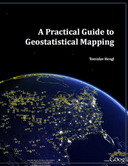 Download this free enginneering eBook: "A Practical Guide to Geostatistical Mapping" by Tomislav Hengl in pdf format. A practical guide to geostatistical mapping using R+gstat/geoR, SAGA GIS and Google Earth combo of software packages.
Book Description
Includes seven diverse data analysis exercises. Materials presented in this book have been used for the five-day advanced training course "GEOSTAT: spatio-temporal data analysis with R+SAGA+Google Earth", that is periodically organized by the author and collaborators.
Table of Contents
Geostatistical mapping
Regression-kriging
Software (R+GIS+GE)
Auxiliary data sources
First steps (meuse)
Heavy metal concentrations (NGS)
Soil Organic Carbon (WISE_SOC)
Species' occurrence records (bei)
Geomorphological units (fishcamp)
Stream networks (baranjahill)
Land surface temperature (HRtemp)
Download Free PDF / Read Online
Author(s): Tomislav Hengl
Format(s): PDF
File size: 10.14 MB
Number of pages: 293
Link:
Download.