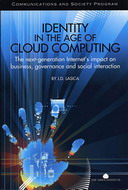 Free eBook "Identity in the Age of Cloud Computing: The next-generation Internet's impact on business, governance and social interaction" examines the migration of information, software and identity into the Cloud and explores the transformative possibilities of this new computing paradigm for culture, commerce, and personal communication.
Book Description
The report also considers potential consequences for privacy, governance and security, and it includes policy recommendations and advice for the new presidential administration.
Table of Contents
Introduction
Why the Cloud Matters
Identity Meets the Cloud
New Concepts of Money
Implications for Commerce
Implications for Government and Governing
Implications for Personal Well-being
Download Free PDF / Read Online
Author(s): J.D. Lasica
Format(s): PDF
File size: 820.21 KB
Number of pages: 110
Link:
Download.