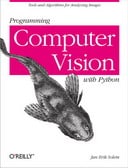 The complete draft version of up-comming O'Reilly Media book "Programming Computer Vision with Python" by Jan Erik Solem. You can download it in pdf format. If you want a basic understanding of computer vision's underlying theory and algorithms, this hands-on introduction is the ideal place to start.
Book Description
The idea behind this book is to give an easily accessible entry point to hands-on computer vision with enough understanding of the underlying theory and algorithms to be a foundation for students, researchers and enthusiasts. The Python programming language, the language choice of this book, comes with many freely available powerful modules for handling images, mathematical computing and data mining.
Table of Contents
Basic Image Handling and Processing
Local Image Descriptors
Image to Image Mappings
Camera Models and Augmented Reality
Multiple View Geometry
Clustering Images
Searching Images
Classifying Image Content
Image Segmentation
OpenCV
Download Free PDF / Read Online
Author(s): Jan Erik Solem
Format(s): PDF
File size: 14.24 MB
Number of pages: 300
Link:
Download.