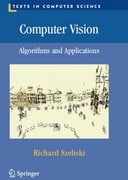 Download a pdf copy of "Computer Vision: Algorithms and Applications" by Richard Szeliski for free. Humans perceive the three-dimensional structure of the world with apparent ease. However, despite all of the recent advances in computer vision research, the dream of having a computer interpret an image at the same level as a two-year old remains elusive.
Book Description
Why is computer vision such a challenging problem and what is the current state of the art? Computer Vision: Algorithms and Applications explores the variety of techniques commonly used to analyze and interpret images.

It also describes challenging real-world applications where vision is being successfully used, both for specialized applications such as medical imaging, and for fun, consumer-level tasks such as image editing and stitching, which students can apply to their own personal photos and videos.
Table of Contents
Introduction
Image formation
Image processing
Feature detection and matching
Segmentation
Feature-based alignment
Structure from motion
Dense motion estimation
Image stitching
Computational photography
Stereo correspondence
3D reconstruction
Image-based rendering
Recognition
Download Free PDF / Read Online
Author(s): Richard Szeliski
Format(s): PDF
File size: 22.14 MB
Number of pages: 979
Link:
Download.