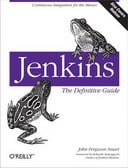 You can download "Jenkins: The Definitive Guide – Continuous integration for the masses", written by John Ferguson Smart, for free in pdf format. This complete guide shows you how to automate your build, integration, release, and deployment processes with Jenkins—and demonstrates how CI (Continuous Integration) can save you time, money, and many headaches.
Book Description
This book is aimed at relatively technical readers, though no prior experience with CI is assumed. You may be new to Continuous Integration, and would like to learn about the benefits it can bring to your development team. Or, you might be using Jenkins or Hudson already, and want to discover how you can take your Continuous Integration infrastructure further.

Much of this book discusses Jenkins in the context of Java or JVM-related projects. Nevertheless, even if you are using another technology stack, this book should give you a good grounding in Continuous Integration with Jenkins. We discuss how to build projects using several non-Java technologies, including as Grails, Ruby on Rails and .NET. In addition, many topics, such as general configuration, notification, distributed builds and security are applicable no matter what language you are using.
Table of Contents
Introducing Jenkins
Your First Steps with Jenkins
Installing Jenkins
Configuring Your Jenkins Server
Setting Up Your Build Jobs
Automated Testing
Securing Jenkins
Notification
Code Quality
Advanced Builds
Distributed Builds
Automated Deployment and Continuous Delivery
Maintaining Jenkins
Download Free PDF / Read Online
Author(s): John Ferguson Smart
Publisher: O'Reilly Media
Format(s): PDF
File size: 24.56 MB
Number of pages: 417
Link:
Download.