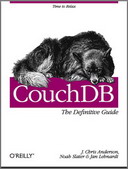 This is the free online version of O'Reilly Media book "CouchDB: The Definitive Guide". This book is designed to guide you gently through using CouchDB with clear but practical scenarios.
Book Description
It progressively showcases key features, starting with simple document CRUD, working through to advanced MapReduce, and culminate with deployment tuning for performance and reliability. With this book, you'll learn how to work with CouchDB through its RESTful web interface, and become familiar with key features such as simple document CRUD (create, read, update, delete), advanced MapReduce, deployment tuning, and more.

Understand the basics of document-oriented storage and manipulation
Interact with CouchDB entirely though HTTP using its RESTful interface
Model data as self-contained JSON documents
Handle evolving data schemas naturally
Query and aggregate data in CouchDB using MapReduce views
Replicate data between nodes
Tune CouchDB for increased performance and reliability
Table of Contents
Why CouchDB?
Eventual Consistency
Getting Started
The Core API
Design Documents
Finding Your Data with Views
Validation Functions
Show Functions
Transforming Views with List Functions
Standalone Applications
Managing Design Documents
Storing Documents
Showing Documents in Custom Formats
Viewing Lists of Blog Posts
Scaling Basics
Replication
Conflict Management
Load Balancing
Clustering
Change Notifications
View Cookbook for SQL Jockeys
Security
High Performance
Recipes
Download Free PDF / Read Online
Author(s): J. Chris Anderson, Jan Lehnardt and Noah Slater.
Format(s): HTML
Number of pages: 272
Link:
Read online.