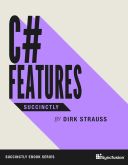 C# Features Succinctly is a concise guide to the significant features packaged in C# 7, 8, and 9. To help readers understand the evolution of the language, author Dirk Strauss first covers the important additions that arrived in version 7, such as tuples, pattern matching, and out variables.
Table of Contents
The History of C#
C# 7 Features Recap
C# 8.0 Features
The Future of C# and C# 9
.NET Productivity Features in Visual Studio
Download Free PDF / Read Online
Author(s): Dirk Strauss
Publisher: Syncfusion Inc.
Published: February 2021
Format(s): PDF, Mobi(Kindle), ePub, Online
File size: 1.07 MB
Number of pages: 77
Download / View Link(s): Download or read online