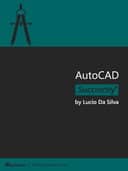 AutoCAD is a versatile and powerful tool for developing graphic design elements. In AutoCAD Succinctly, Lucio Da Silva provides the skills necessary to make AutoCAD the base for better graphic design across a variety of fields.
Description
Topics included: Opening the Box • Speaking AutoCAD • Let There Be Lines • Managing the Drawing • Reference Objects • Annotations • Publishing the Drawing.
Book Details
Author(s): Lucio Da Silva
Publisher: Syncfusion Inc.
Published: June 2016
Format(s): PDF, Mobi
File size: 5.05 MB(pdf)
Number of pages: 148
Download / View Link(s): PDF, Mobi