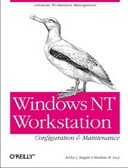 Anyone faced with setting up and managing a large number of workstations quickly learns the limitations of a graphical user interface.
Book Description
These authors have developed a number of scripts and techniques to bypass the GUI limitations and administer the workstations centrally. The result is Windows NT Workstation Configuration and Maintenance, the only book on the market to focus on automating the daily management tasks required to keep a large workstation farm up and running.
Table of Contents
Introduction
Running a Script Without User Intervention
Remote Script Management
System Maintenance
Controlling Services and Drivers
Machine-Specific Scripting
Changing Network Identity
Script Safety and Security
A Custom Module
Download Free PDF / Read Online
Author(s): Matthew M. Lavy, Ashley J. Meggitt
Format(s): HTML
Number of pages: 178
Link:
Read online.