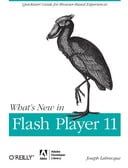 "What's New in Flash Player 11: Quickstart Guide for Browser-Based Experiences", published by O'Reilly Media, is freely available in several ebook formats from O'Reilly shop.

Book Description
This book will detail the various enhancements, new functionalities, and general improvements available in this new version of Adobe Flash Player. Each item is explained in detail, and when possible, a series of screen captures and a full code example will be provided, enabling you to both grasp the new feature in a visual way, and integrate the feature into your own code quickly, based upon example.

This book is written for both veteran Flash Platform developers curious about enhancements in Flash Player 11, as well as those who are entirely new to the platform. The reader will acquire a solid overview of new features along with usable code examples.
Table of Contents
Improvements to the MovieClip and Drawing APIs
External Image Capabilities
Stage3D: High Performance Visuals
Audio and Video Enhancements
Data Transfer Additions
Runtime Enhancements
Flash Player Security
Download Free PDF / Read Online
Author(s): Joseph Labrecque.
Format(s): DAISY, ePub, Mobi, PDF
File size: 5.21 MB
Number of pages: 79
Link:
Download.