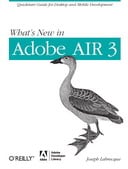 "What's New in Adobe AIR 3: Quickstart Guide for Desktop and Mobile Development", published by O'Reilly Media, is freely available in several ebook formats from O'Reilly shop.
Book Description
This book will detail the various enhancements, new functionalities, and general improvements available in this version of the Adobe AIR runtime. Each item is explained in detail, and when possible, a series of screen captures and a full code example will be provided, enabling you to both grasp the new feature in a visual way, and integrate the feature into your own code quickly, based upon example.
Table of Contents
Improvements to the MovieClip and Drawing APIs
External Image Capabilities
Stage3D: High Performance Visuals
Mobile Advantage: StageText and StageVideo
Video and Audio Enhancements
Mobile Device Hardware Additions
Data Transfer Additions
Runtime Enhancements
Adobe AIR Security
Download Free PDF / Read Online
Author(s): Joseph Labrecque.
Format(s): DAISY, ePub, Mobi, PDF
File size: 6.53 MB
Number of pages: 105
Link:
Download.