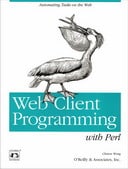 This is a free perl book from O'Reilly Open Books Project. Web Client Programming with Perl is a behind-the-scenes look at how your web browser interacts with web servers. Readers of this book will learn how the Web works and how to write software that is more flexible, dynamic, and powerful than the typical web browser.
Book Description
The goal here is not to rewrite the browser, but to give you the ability to retrieve, manipulate, and redistribute web-based information in an automated fashion. This book is for software developers who want to expand into a new market niche. It provides proof-of-concept examples and a compilation of web-related technical data.This book is for web administrators who maintain large amounts of data. Administrators can replace manual maintenance tasks with web robots to detect and correct problems with web sites. Robots perform tasks more accurately and quickly than human hands.
Table of Contents
Introduction
Demystifying the Browser
Learning HTTP
The Socket Library
The LWP Library
Example LWP Programs
Graphical Examples with Perl/Tk
Download Free PDF / Read Online
Author(s): Clinton Wong
Publisher: O'reilly media
Format(s): HTML
Link:
Read online.