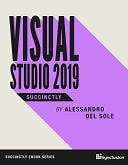 Visual Studio 2019 is the new release of Microsoft's premiere development environment, which follows cross-platform paradigms and uses a plethora of programming languages and frameworks. Visual Studio 2019 Succinctly describes what's new in VS2019 from the point of view of the IDE.
Book Description
Topics included: The Installation Experience • Layout and Project Management • Code Editor Productivity • Collaboration • What's New in the Debugger • What's New for Mobile Development • What's New for Web and Cloud Development • Desktop Development with .NET Core 3.0
Download Free PDF / Read Online
Author(s): Alessandro Del Sole
Publisher: Syncfusion Inc.
Published: August 2019
Format(s): PDF, Mobi(Kindle), ePub, Online
File size: 3.96 MB
Number of pages: 91
Download / View Link(s): Download or read online