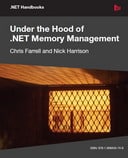 With "Under the Hood of .NET Memory Management" you will learn how an application actually works "under the hood." When you understand the fundamentals of memory management, you will write better, faster, more efficient code, and be much better prepared when problems appear in one of your applications.
Book Description
This book covers theory and practice for analyzing and improving .NET code performance. It includes 269 pages of screenshots and worked examples for client-side and server-side profiling. Focuses on the 20% of code defects that account for 80% of performance loss. This eBook explains how to diagnose and correct performance bottlenecks.
Table of Contents
Prelude
The Simple Heap Model
A Little More Detail
Common Memory Problems
Application-Specific Problems
A Few More Advanced Topics
The Windows Memory Model
Download Free PDF / Read Online
Author(s): Chris Farrell and Nick Harrison.
Publisher: Simple Talk Publishing
Format(s): PDF
File size: 6.65 MB
Number of pages: 225
Link:
Download.