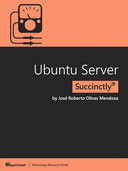 Ubuntu Server Succinctly illuminates the path from installing Ubuntu Server on a machine to configuring user accounts, groups, directories, networks, databases, and more. In only a few dozen pages, developers and IT professionals unfamiliar with Linux distributions will be able to set up Ubuntu Server and leverage its capabilities in any environment.
Book Description
Topics included: Introduction • Installing Ubuntu Server • Beginning with Ubuntu Server • Managing Files and Directories • Security • Networking • Sharing Network Resources with Windows • Databases • Desktop Experience in Ubuntu Server.
Download Free PDF / Read Online
Author(s): José Roberto Olivas Mendoza
Publisher: Syncfusion Inc.
Published: December 2016
Format(s): PDF, Mobi
File size: 4.68 MB(pdf)
Number of pages: 147
Download / View Link(s): PDF, Mobi