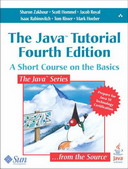 "The Java Tutorial Fourth Edition" is a complete beginners guide on Java Language. A hands-on guide to the Java programming language, The Java™ Tutorial, Fourth Edition is perfect for any developer looking for a proven path to proficiency with Java SE. This popular tutorial "from the Source" has been completely revised and updated to cover Version 6 of the Java Platform, Standard Edition.
Book Description
Written by members of the Java Software team at Sun Microsystems, this book uses a tested, interactive approach and features real-world problems that help you learn the Java platform by example.

New to this edition are chapters on generics, collections, Java Web Start, the platform environment, and regular expressions. Key sections, including the Threads, I/O, Object-Oriented Programming Concepts, and Language Basics chapters have been completely rewritten to reflect reader feedback and to cover new features added to the Java SE 6 platform. A new appendix contains information on how to prepare for the Java Programming Language Certification exam.
Table of Contents
Getting Started — An introduction to Java technology and lessons on installing Java development software and using it to create a simple program.
Learning the Java Language — Lessons describing the essential concepts and features of the Java Programming Language.
Essential Java Classes — Lessons on exceptions, basic input/output, concurrency, regular expressions, and the platform environment.
Collections — Lessons on using and extending the Java Collections Framework.
Swing — An introduction to the Swing GUI toolkit, with an overview of features and a visual catalog of components. See below for a more comprehensive tutorial on Swing.
Deployment — How to package applications and applets using JAR files, and deploy them using Java Web Start and Java Plug-in.
Preparation for Java Programming Language Certification — List of available training and tutorial resources.
Download Free PDF / Read Online
Author(s): Sharon Zakhour, Scott Hommel, Jacob Royal, Isaac Rabinovitch, Tom Risser and Mark Hoeber.
Publisher: Prentice Hall
Format(s): PDF
File size: 102 MB
Number of pages: 672
Link:
Download or read online.