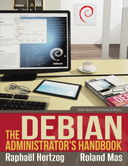 "The Debian Administrator's Handbook", written by two Debian developers — Raphaël Hertzog and Roland Mas, this book teaches the essentials to anyone who wants to become an effective and independent Debian GNU/Linux administrator.
Book Description
It covers all the topics that a competent Linux administrator should master, from the installation and the update of the system, up to the creation of packages and the compilation of the kernel, but also monitoring, backup and migration, without forgetting advanced topics like SELinux setup to secure services, automated installations, or virtualization with Xen, KVM or LXC.
First, systems administrators (both beginners and experienced) will find explanations about the installation and deployment of Debian on many computers. They will also get a glimpse of most of the services available on Debian, along with matching configuration instructions and a description of the specifics coming from the distribution. Understanding the mechanisms involved in Debian's development will enable them to deal with unforeseen problems, knowing that they can always find help within the community.
Users of another Linux distribution, or of another Unix variant, will discover the specifics of Debian, and should become operational very quickly while benefitting fully from the unique advantages of this distribution.
Finally, readers who already have some knowledge of Debian and want to know more about the community behind it should see their expectations fulfilled. This book should make them much closer to joining us as contributors.
Table of Contents
The Debian Project
Presenting the Case Study
Analyzing the Existing Setup and Migrating
Installation
Packaging System: Tools and Fundamental Principles
Maintenance and Updates: The APT Tools
Solving Problems and Finding Relevant Information
Basic Configuration: Network, Accounts, Printing…
Unix Services
Network Infrastructure
Network Services: Postfix, Apache, NFS, Samba, Squid, LDAP
Advanced Administration
Workstation
Security
Creating a Debian Package
Debian's Future
Download Free PDF / Read Online
Author(s): Raphaël Hertzog and Roland Mas.
Publisher: Freexian SARL
Format(s): HTML
Number of pages: 495
Link:
Download.