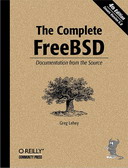 The Complete FreeBSD is an eminently practical guidebook that explains not only how to get a computer up and running with the FreeBSD operating system, but also how to turn it into a highly functional and secure server that can host large numbers of users and disks, support remote access, and provide web service, mail service, and other key parts of the Internet infrastructure.
Book Description
The book provides in-depth information on installation and updates, back-ups, printers, RAID, various Internet services, firewalls, the graphical X Window system, and much more. Author Greg Lehey is a member of the FreeBSD core team and has been developing, documenting, and advocating for FreeBSD for nearly ten years. Whether you're an experienced Unix user or just interested in learning more about this free operating system and how you can put it to work for you, this do-it-yourself BSD documentation will provide the information you need.
Table of Contents
Introduction
Before you install
Quick installation
Shared OS installation
Installing FreeBSD
Post-installation configuration
The tools of the trade
Taking control
The Ports Collection
File systems and devices
Disks
The Vinum Volume Manager
Writing CD-Rs
Tapes, backups and floppy disks
Printers
Networks and the Internet
Configuring the local network
Connecting to the Internet
Serial communications
Configuring PPP
The Domain Name Service
Firewalls, IP aliasing and proxies
Network debugging
Basic network access
Electronic mail
XFree86 in depth
Starting and stopping the system
FreeBSD configuration files
Keeping up to date
Updating the system software
Custom kernels
Download Free PDF / Read Online
Author(s): Greg Lehey
Format(s): PDF, PostScript
File size: 5.00 MB
Number of pages: 720
Link:
Download.