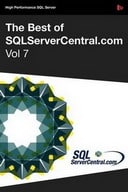 Free 376 page eBook "The Best of SQLServerCentral.com Vol. 7" from Red Gate Software.
Book Description
SQLServerCentral.com brings you a variety of articles on all aspects of SQL Server from administration to XML and everything in between. Our articles are written by real DBAs and developers, based on the articles and scripts they use in their daily work. And this book is a collection of the best articles we've seen from the past year from over 50 authors.
Table of Contents
SQL Server Preproduction Tasks
Scope: The drastic caveat with Logon Triggers
The Date Dimension in Analysis Services
SCOME – Centralize Monitoring with ASPNET – Part 1
Monitoring Changes in Your Database Using DDL Triggers
Imaginative Auditing with Rollback (Undo) and RollForward (Redo) Part I
9 Things to Do When You Inherit a Database
Cursors for T-SQL Beginners
DAC -What to Execute when Connected?
Getting a Clue about Your Databases
Ordering Tables to Preserve Referential Integrity
Creating a recycle bin for SQL Server 2005\2008
Using SQL Profiler to Resolve Deadlocks in SQL Server
What SQL Statements Are Currently Executing?
Duplicate Records using SQLCMD
Automating Excel from SQL Server
Moving Indexes
On Indexes and Views
Missing Indexes in SQL Server 2005
Using the Script Component with Multiple Outputs
SSIS and Stored procedures using temp tables
SSIS Custom Error Handling
Simple Steps to Creating SSIS Package Configuration File
Using Checkpoints in SSIS (Part 1)
Reporting Services: Read Data from SSAS and SQL Server in One Dataset
SQL Server 2008 Mirroring Testing
On-Call Duties
Configuring Replication for Partitioned Tables Using T-SQL
Performance Implications of Database Snapshots
Filtering Unneeded Dimension Members in PerformancePoint Filters
Powering up DTS with PerlDTS
Loading Data with Powershell
Add Styles to Your Reporting Services Reports
Configuring Kerberos Authentication
Use Operations Manager to Monitor Your SQL Agent Jobs
Oracle for the SQL Server Guy – Instances and Databases
Default trace – A Beginner's Guide
Streaming Data into SQL Server 2008 from an Application
SQL Server 2008 and Data Compression
The FILESTREAM Data Type in SQL Server 2008
Investigating the new Spatial Types in SQL Server 2008 – Part 1
SQL Server 2008 SSMS Enhancements – Debugging Support
Deploying Scripts with SQLCMD
Real-Time Tracking of Tempdb Utilization Through Reporting Services
Transparent Data Encryption (TDE) SQL Server 2008
Introduction to DML Triggers
Troubleshooting
SQL Server 2005 Paging the Holy Grail
Hierarchies in SQL
ROW_NUMBER(): An Efficient Alternative to Subqueries
There Must Be 15 Ways to Lose Your Cursors part 1, Introduction
Generating Insert Statements
Dynamic SQL Merge
Test-Driven Development of T-SQL Code
Automating tests for T-SQL code
Database Server Upgrades the Plan, the Template, and the Task List
Split string using XML
Celko's Summer SQL Stumpers: Prime Numbers
Basically Available, Soft State, Eventually Consistent
Managing Free Space
Download Free PDF / Read Online
Author(s): SQLServerCentral.com Authors
Format(s): PDF
File size: 112.49 MB
Number of pages: 356
Link:
Download.