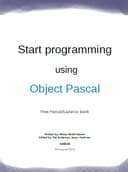 Free Pascal/Lazarus ebook: "Start programming using Object Pascal" by Motaz Abdel Azeem in pdf format.
Book Description
This book is written for programmers who want to learn the Object Pascal Language. It is also suitable as a first programming book for new students and non-programmers. It illustrates programming techniques in general in addition to the Object Pascal Language.

Object Pascal is a general purpose hybrid (structured and object oriented programming) language. It can be used for a vast range of applications, like learning, game development, business applications, Internet applications, communication applications, tools development, and OS kernels.
Table of Contents
Language Basics
Structured Programming
The Graphical User Interface
Object Oriented Programming
Download Free PDF / Read Online
Author(s): Motaz Abdel Azeem
Publisher: –
Format(s): PDF
File size: 739 KB
Number of pages: 150
Link:
Download.