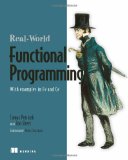 "Real World Functional Programming" provides information and guidance on using F# in a variety of applications. This content is authored by Tomas Petricek and Jon Skeet and is provided by Manning Publications, Co.
Book Description
This is a unique tutorial that explores the functional programming model through the F# and C# languages. The clearly presented ideas and examples teach readers how functional programming differs from other approaches. It explains how ideas look in F#-a functional language-as well as how they can be successfully used to solve programming problems in C#. Readers build on what they know about .NET and learn where a functional approach makes the most sense and how to apply it effectively in those cases.
Table of Contents
Introducing Functional Programming
Server-Side Functional Programming
Developing Client-Side Applications
Numerical Computing
Working with Data
Visualizing Data with .NET Charts
Download Free PDF / Read Online
Author(s): Tomas Petricek, Jon Skeet and Yin Zhu.
Publisher: Manning Publications Co.
Format(s): HTML (Online)
File size: –
Number of pages: –
Link:
Read online.