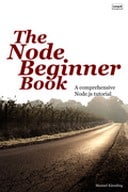 "The Node Beginner Book", written by Manuel Kiessling, is free to read online. Learn to create a complete web application which allows the users of this application to view web pages and upload files.
Book Description
The aim of "The Node Beginner Book" is to get you started with developing applications for Node.js, teaching you everything you need to know about advanced JavaScript along the way on 59 pages. This book is for readers who are experienced with at least one object-oriented language like Ruby, Python, PHP or Java, only little experience with JavaScript, and completely new to Node.js.
Table of Contents
JavaScript and Node.js
A full blown web application with Node.js
Building the application stack
Download Free PDF / Read Online
Author(s): Manuel Kiessling
Format(s): HTML
Number of pages: 59
Link:
Read online.