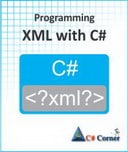 "Programming XML with C#", written by Mahesh Chand, is a book written in step-by-step tutorial format for beginners and students who want to learn XML programming using C# language. It is recommended that you have some programming experience using any of the object-oriented languages such as C++, Pascal, or Java.
Book Description
In this book, you will learn the basic elements of XML and classes and objects available in .NET Framework to work with XML. After that, you will learn how to read, write, updated, and transform XML using C#. .NET also provides support for relationships between data (via ADO.NET) and XML. It also discusses how you can take advantages of classes found on ADO.NET and connect data with XML.
Table of Contents
Introduction to XML
DOM Overview
XML Representation in .NET World
The XML.NET Architecture
Reading XML
Writing XML
Understanding DOM Implementation
Transformation and XSLT
Connecting data and XML via ADO.NET
Traversing XML Documents
XML Designer in Visual Studio .NET
Download Free PDF / Read Online
Author(s): Mahesh Chand
Format(s): PDF
File size: 1.21 MB
Number of pages: 65
Link:
Download.