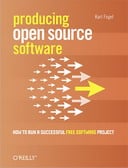 Producing Open Source Software: How to Run a Successful Free Software Project is a book about the human side of open source development. It describes how successful projects operate, the expectations of users and developers, and the culture of free software.
Book Description
This book is meant for software developers and managers who are considering starting an open source project, or who have started one and are wondering what to do now. It should also be helpful for people who just want to participate in an open source project but have never done so before.

The reader need not be a programmer, but should know basic software engineering concepts such as source code, compilers, and patches.

Prior experience with open source software, as either a user or a developer, is not necessary. Those who have worked in free software projects before will probably find at least some parts of the book a bit obvious, and may want to skip those sections. Because there's such a potentially wide range of audience experience, I've made an effort to label sections clearly, and to say when something can be skipped by those already familiar with the material.
Table of Contents
Introduction
Getting Started
Technical Infrastructure
Social and Political Infrastructure
Money
Communications
Packaging, Releasing, and Daily Development
Managing Volunteers
Licenses, Copyrights, and Patents
Download Free PDF / Read Online
Author(s): Karl Fogel
Publisher: O'Reilly Media
Format(s): PDF, HTML, ePub
File size: 847 KB
Number of pages: 184
Link:
Download or read online.