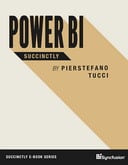 Power BI is a cloud-based business analytics service that gives us a single view of the most critical business data. A tool for creating live dashboards and rich, interactive reports, Power BI allows access to data for monitoring the health of a business. Pierstefano Tucci will take readers through the Power BI interface, query creation, publishing your work, and more in Power BI Succinctly.
Book Description
Topics included: What is Power BI? • Service • Desktop • Mobile Apps • Solution Template • Developer • Power BI Embedded • Power BI Gateway: Data Security.
Download Free PDF / Read Online
Author(s): Pierstefano Tucci
Publisher: Syncfusion Inc.
Published: November 2017
Format(s): PDF, Mobi(Kindle)
File size: 18.05 MB
Number of pages: 146
Download / View Link(s): PDF, Mobi