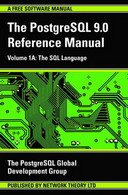 This manual is part of the official reference documentation for PostgreSQL 9.0. It describes the SQL language specification as implemented by PostgreSQL, including syntax, data types, functions and operators, indexes and transactions. The new XML datatypes and full-text index support of PostgreSQL 9 are also fully documented.
Book Description
This volume is part of a set. The separate Volume 1B "SQL Command Reference" contains the documentation for every PostgreSQL command from ABORT to VALUES. PostgreSQL client and server command-line tools are also documented in Volume 1B. Volumes 1A and 1B are intended to be used together. The further additional volumes of this series are Volume 2, the "Programming Guide", and Volume 3, the "Server Administration Guide".
Table of Contents
Introduction
SQL Syntax
Data Definition
Data Manipulation
Queries
Data Types
Functions and Operators
Type Conversion
Indexes
Full Text Search
Concurrency Control
Performance Tips
Download Free PDF / Read Online
Author(s): PostgreSQL Global Development Group
Format(s): PDF
Number of pages: 454
Link:
Read online.